Minot's Gavin Argent wins 2-hole playoff to claim Class A boys golf championship; West Fargo Sheyenne clinches team title
West Fargo Sheyenne edges Grand Forks Red River for program's first team title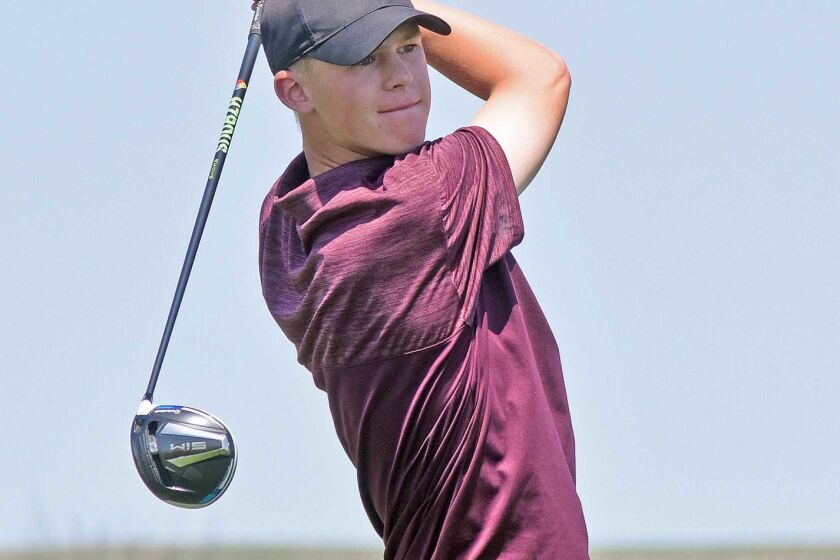 BISMARCK — A 12-hour day on Tuesday and a 13-hour day on Wednesday wasn't enough to decide a winner at the North Dakota Class A state boys golf tournament at Hawktree Golf Club.
Minot's Gavin Argent and Grand Forks Red River's Zach Hinschberger needed a sudden-victory playoff to decide a state champion after tying atop the leaderboard at four-under-par 140 at the end of 36 holes. Argent birdied the second playoff to win the tournament and claim the championship.
West Fargo Sheyenne won the team championship with a combined score of 598.
"That was definitely a grind today," Argent said. "We played nine this morning and that was a good nine holes to start. Went back to the hotel, took a little nap. Came back and it was a grind — really hot out, no wind, perfect conditions."
After finishing Hole 18, the two golfers were shuttled back down the hill to the tee box where they were set to repeat that same hole until there was a winner.
Tuesday's first round was stormed out, so the golfers all had to finish Round 1 at 7:15 a.m. Wednesday morning, and then went right back out to play Round 2 on Wednesday afternoon.
Both Argent and Hinschberger played 27 holes Wednesday before the two-hole playoff with the sun beating down on them. There were few clouds and little wind and temperatures reached close to 90 degrees.
"Coming up 18, my calves and my hamstrings were cramping up," said Argent, who also won the West Region championship last week. "I was just trying to grind it out. It was a grind today. It was a good day."
"It was definitely a grind, but I definitely drank probably 15 bottles of water," Hinschberger added. "This course is tough to walk, so it's definitely tough on the body."
With every other golfer finished, the entire crowd of players, coaches and fans crowded on the hills around the 18th hole to watch the playoff.
Argent's drive on the first playoff went to the left of the fairway and Hinschberger's went right. Argent's approach shot ended up in the rough to the right of the green on the other side of a bunker. Hinschberger's was deep and sailed over the green into the rough.
Argent's next shot was short and fell into the bunker. He then hit a gorgeous bunker shot and placed his ball just a couple feet short of the pin. Hinschberger answered right back with a shot out of the rough to put him just outside of Argent's ball. Hinschberger took a three-foot birdie putt on the Par 5 to win, but missed it to the left by just inches and had to settle for par. Argent sank his par putt to force a second playoff.
"You obviously don't want to see him (miss that putt)," Argent said. "I don't know, he just missed it and gave me the chance and I took the opportunity to hit some good golf shots after that."
Both golfers sent their tee shots on the second playoff into the rough to the right. Hinschberger's second shot came up just short of the bunker to the right of the green and Argent's sailed right back into the bunker.
Hinschberger hit his shot a little too long and went past the green and into the rough on the other side. Argent hit another nice bunker shot, almost identical to his first one and was feet from the pin.
"I didn't have any bunker shots the whole week," Argent said. "None in the practice rounds. None today. It was definitely something that I hadn't really faced. I guess I hit them both."
Hinschberger's chip out of the rough was on a perfect line for the hole, but too hard and rimmed out. He sank his next putt for par.
Argent drained his birdie putt to seal the state title.
"I had to assume he was going to get up and down and then unfortunately I couldn't get up and down," Hinschberger said. "It's unfortunate."
Argent and Hinschberger separated themselves down the back-nine and Hinschberger knew it was going to come down to the two of them. Hinschberger birdied Hole 16 to take a one-stroke lead. Argent answered with a birdie on 17, while Hinschberger bogeyed. Hinschberger birdied hole 18 to tie things up.
"We both shot a couple birdies on the back, I think we both shot 33s," Hinschberger said. "It was good golf, it was fun to play along with him.
"I just wanted to keep playing golf. I thought I hit a really good shot on 17, but I flew the green and he made a really long putt for birdie to go one up on me. Fortunately I was able to birdie 18 to tie it up. We both just played really good rounds."
Fargo Davies' Sam Suppes finished second with an even-par two-round score of 144. Mandan's Trey Hohbein was fourth (145). Davies' Gabe Benson, Century's Logan Schoepp, Fargo Shanley's Jake Skarperud, and Grand Forks Red River's Saylor Kuenzel tied for fifth at 146. West Fargo Sheyenne's Layton Bartley was ninth (148), and Bismarck's Tarin Walker and Grand Forks Central's Carson Seng tied for 10th (149).
Mustangs win first team title
West Fargo Sheyenne won the team title with a score of 598, edging out second-place Grand Forks Red River's 601.
The Mustangs' top four scorers were all separated by just three strokes and they placed each of their scoring players in the top 14.
Layton Bartley led the way for Sheyenne with a 148, good for ninth place. Bennett Persoon shot a 150, tying him for 12th. Nate Peyerl and Andrew Wilhelm each carded 151, tying them for 16th.
"We've been a team the whole year, where we've had different players step up at different tournaments," Sheyenne coach Dan Wolf said. "The state tournament was another great example of that because we had some people who we didn't use their score in the first round and then we did use it in the second round. That's how you win team championships like this. You've got to have the whole team contribute and that's what we had all year."
The title is the first in program history for the Mustangs after they were runners-up twice before.
"Those times we took second place, three of our seniors were eighth graders at the time and were part of the team," Wolf said. "They've been around almost as long as Sheyenne's been a program. To see them be around and to experience this, that's really special for us."
Team scores
1. West Fargo Sheyenne 302-296--598; 2. Grand Forks Red River 309-292--601; 3. Fargo Davies 301-302--603; 4. Minot 316-295--611; 5. Bismarck Century 306-313--619; 6. Fargo North 315-310--625; 7. Grand Forks Central 314-313--627; 8. Bismarck 346-323--669; 9. Bismarck St. Mary's 331-340--671; 10. West Fargo 332-344--676; 11. Bismarck Legacy 344-341--685; 12. Dickinson 357-343--700
Top 30 individuals
1. Argent, Minot, 73-67--140; 2. Hinschberger, Red River, 73-67--140; 3. Suppes, Davies, 73-71--144; 4. Hohbein, Mandan, 73-72--145; T5. Benson, Davies, 71-75--146; Schoepp, Century, 73-73--146; J. Skarperud, Shanley, 72-74--146; Kuenzel, Red River, 75-71--146; 9. Bartley, Sheyenne, 71-77--148; T10. Walker, Bismarck, 78-71--149; Seng, Central, 72-77--149; T12. Persoon, Sheyenne, 78-72--150; Hansen, Wahpeton, 78-72--150; T14. Peyerl, Sheyenne, 76-75--151; Olson, North, 77-74--151; Wilhelm, Sheyenne, 77-74--151; T17. Powers, Williston, 75-79--154; French, Sheyenne, 79-75--154; T19. Barrett, Legacy, 81-74--155; Johnson, Davies, 77-78--155; Wittenberg, Century, 76-79--155; Skarperud, Red River, 80-75--155; Riesinger, Red River, 78-77--155; T24. Carroll, Jamestown, 76-80--156; Shultis, North, 79-77--156; McGarry, Central, 77-79--156; T27. Bartsch, Minot, 85-73--158; Booth, South, 80-78--159; T29. Tufte, Century, 79-80--159; Alm, Century, 78-81--159
Additional individuals
Sheyenne: T47. Frisch, 85-80--165
Davies: T38. Solberg 84-78--162; T41. Bullinger 80-83--163; T47. Wiemken 83-82--165
North: T31. Nelson 83-77--160; T34. Bartz 79-82--161; T38. Hannestad, North, 80-82--162; T66. Maughan 84-85--179
West Fargo: T43. Schmelka 85-79--164; T57. Anderson 83-86--169; T59. Limke 83-89--172; 61. Narlock 83-90--173; T62. Motter 83-92--175; T76. Wynn 94-96--190
Shanley: T50. Z. Skarperud 81-85--166
Powerade Senior Athlete of the Year: Gavin Argent, Minot
Subway coach of the Year: Michael Dobberstein, Fargo North