Tim Brandt ready to build from what Kirchoffner started with West Fargo Sheyenne boys basketball team
Tim Brandt was recently hired as the Mustangs' next varsity boys basketball head coach, succeeding the program's first-ever coach Tom Kirchoffner, who stepped down at the end of April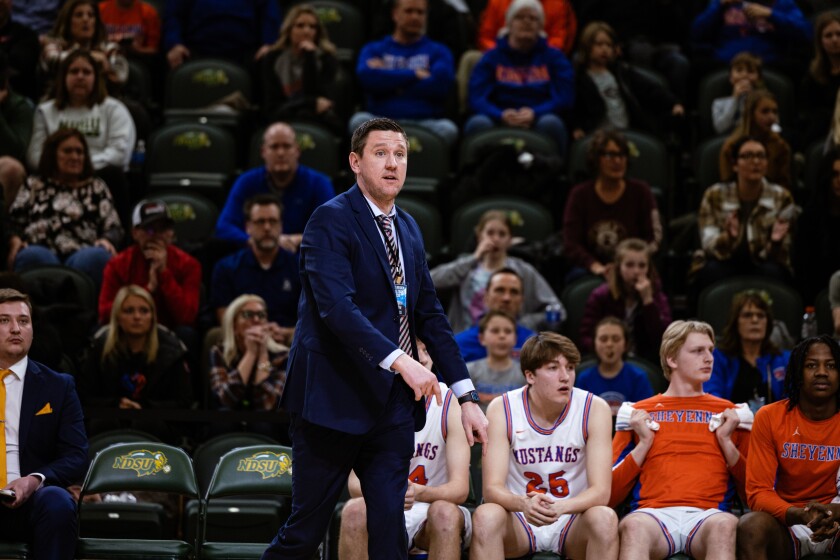 We are part of The Trust Project.
WEST FARGO — When Tom Kirchoffner took the reins of the West Fargo Sheyenne boys basketball program since its beginnings in 2012, he was tasked with building the program from scratch.
Nearly 10 years later, Kirchoffner has moved onto new ventures outside of the basketball world. With an array of seniors departing, Kirchoffner's successor — former Mustangs assistant coach and junior varsity head coach Tim Brandt — will now be tasked with doing more of the same: building the program again.
Brandt was hired on May 19 after Kirchoffner stepped down at the end of April. It was a position Brandt said he wanted probably more than anyone.
"Obviously, where the program is, we've been so successful since we've started really and we've built it from scratch," Brandt said. "Honestly, I didn't really want anybody else to take over. With that feeling, I just couldn't not apply for it.
"For me, I view it as one of the best high school coaching jobs in the state. That's how I see it and that was the appeal right there. To take over such a great program, and the fact that it's a program I helped start made it even more exciting for me."
It will be Brandt's first head coaching gig at the varsity level. In his time with the JV program, he guided the Mustangs to a 141-26 record and works by day as a physical education teacher for West Fargo Public Schools.
Brandt said when thinking of being a varsity coach for the first time, it came with a mixed bag of emotions.
"A lot of the nervousness just comes from the unknown," he said. "Just things that I'm sure will pop up at a certain time that I've never thought about or things that I've never had to do before that I'm going to have to kind of jump in with. I think that's where the nerves come from.
"As far as coaching basketball, I mean, that's really why you get into a position like this. I'm excited for stuff like that, but it's all of the unknown that may give me a little nervousness or a little anxiety moving forward. But I think the excitement of just accepting this position and being able to move forward with it, that definitely outweighs the nervousness and the anxiety."
He had a wide range of support throughout the process, however, including from his predecessor.
"I know with Tom, Tom obviously wanted me to get the job," Brandt said. "Just so it could stay with somebody that's been there from the beginning. He was really in my corner the entire time, so that was really nice of him and I was very grateful for Tom for that."
For Kirchoffner, being the first varsity boys basketball coach in the history of Sheyenne High School was likely an honor he'll carry with him forever. For Brandt, being the second-ever head coach may be even more special, especially for a man who's been there from the start.
"Being with it for nine years — since before we were a varsity program — The first year I was here, we had a freshmen team and a JV team, and I was the freshmen 'B' coach my first year here, and then the next year I was elevated to JV coach," Brandt said. "Just having all of these guys come through and knowing everybody that's come through the program and seeing what our numbers were back then to what they are now, it's really, really exciting to be able to see that growth, and then to be able to take over as the leader is extremely exciting."
That will serve as an advantage for Brandt — knowing most of the kids both in the program already and those who are up and coming. He taught at Liberty Middle School, which feeds into Sheyenne.
"The players know me, they know what they're getting, they know my personality and they know my coaching style," Brandt said. "Based on the reception I got from some of them, I think they're all pretty excited that they went with me for this job."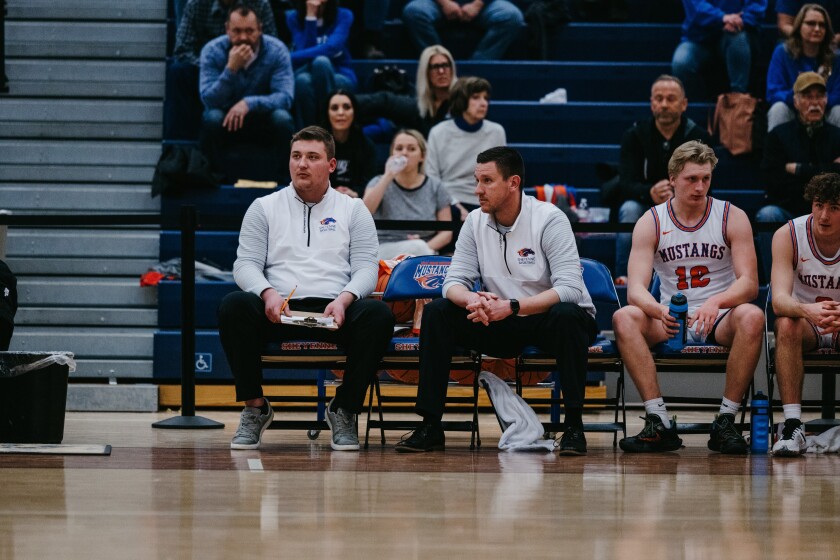 Filling the shoes of Kirchoffner won't be easy. The former bench boss led the Mustangs to five Class A state tournament appearances and a 149-58 record. Kirchoffner also led Sheyenne to two Eastern Dakota Conference championships in 2018 and 2020 and was named Class A Boys Basketball Coach of the Year in 2018.
The Mustangs lost about half of its varsity roster from this past season to graduation, including all five starters. The program will look somewhat similar to what it was at its inception.
"One thing I know with us is we don't have a lot coming back," Brandt said. "We have one guy coming back that got any type of significant varsity minutes last year. So it's going to be a clean slate and I want to get some younger guys on the floor just to get guys some experience so I can have some guys on the floor for two or three years. We've been so senior heavy the past couple of years that that's really my goal is to work some younger kids in and get some underclassmen some experience, so they can be around and I can coach them for a few years on the varsity level."
In a way, it's a full-circle moment for Brandt. Starting with the freshman team in 2012, Kirchoffner built the program from scratch with Brandt by his side. Now, it's Brandt's turn to rebuild.
"It is exciting, and it's not necessarily building it from scratch because we have all of those building blocks and core things in place still that we kind of put together nine years ago," Brandt said. "Everybody understands what those are. They know they've got to come in and work. The athleticism is different now than it was nine years ago. Based on pure numbers, we have so many great athletes here. So it's kind of a restart without really being a restart almost."