Wayzata dominates Moorhead from start to finish in lopsided state boys basketball quarterfinal win
Wayzata rolled into Thursday's semifinals with a 71-28 win over Moorhead on Tuesday
We are part of The Trust Project.
MINNEAPOLIS — Unseeded Cretin-Derham Hall surprised second-seeded Owatonna in the third quarterfinal of the Minnesota Class 4A state boys basketball tournament when it squeaked out a one-point win in the final minute.
Wayzata ensured that would be the only upset of the day in the 4A field. The No. 3-ranked and seeded Trojans opened the state tournament with a dominant 71-28 victory over unseeded Moorhead on Tuesday at Target Center.
The defending 4A state champion Wayzata advanced to the semifinals at 8 p.m. Thursday at Williams Arena and will take on Cretin-Derham Hall. The Spuds (17-13) will face No. 2 seed Owatonna (27-3) in the consolation semifinals at noon Wednesday at Concordia University in St. Paul.
"They caused a lot of issues for us when we were trying to handle the ball and when we were trying to get it into certain places," Moorhead head coach Matt Ellingson said. "They just disrupt timing, they disrupt actions. They're so connected on the defensive side of the floor that it made it difficult for us tonight."
Wayzata held Moorhead to its lowest offensive output of the season, 16 points less than its previous low of 44.
The Trojans utilized a balanced offensive attack and stingy defense to push their winning streak to 15 games. Wayzata, which hasn't dropped a game since Jan. 25, had four players finish with nine or more points and six with seven or more.
Junior guard Myles Barnette went 6-for-6 from the field as he scored a team-high 13 points for Wayzata. Spencer Hall followed with 11, while Carter Bjerke finished with nine points to go along with 11 rebounds. Ryan Harvey also had nine for the Trojans, who cruised to a 75-60 win over Moorhead earlier this season. Tuesday's 43-point win nearly tripled Wayzata's Jan. 8 margin of victory.
"I think this time around we came in with a lot more energy on the defensive end," Wayzata senior Drew Berkland said. "That showed on the scoreboard, too."
"When we were at their place earlier in the year we didn't play great on the defensive end, and we didn't play with the same edge and tenacity that we did today," Berkland added. "I don't know if that was just because of the long bus ride up there or what, but this time, we definitely brought it on the defensive side."
The Trojans played in unison on both ends of the court for the entire 36 minutes. They outscored Moorhead 44-17 in the paint and outrebounded the Spuds 41-30. Wayzata also held Moorhead to 28% shooting (12 of 43).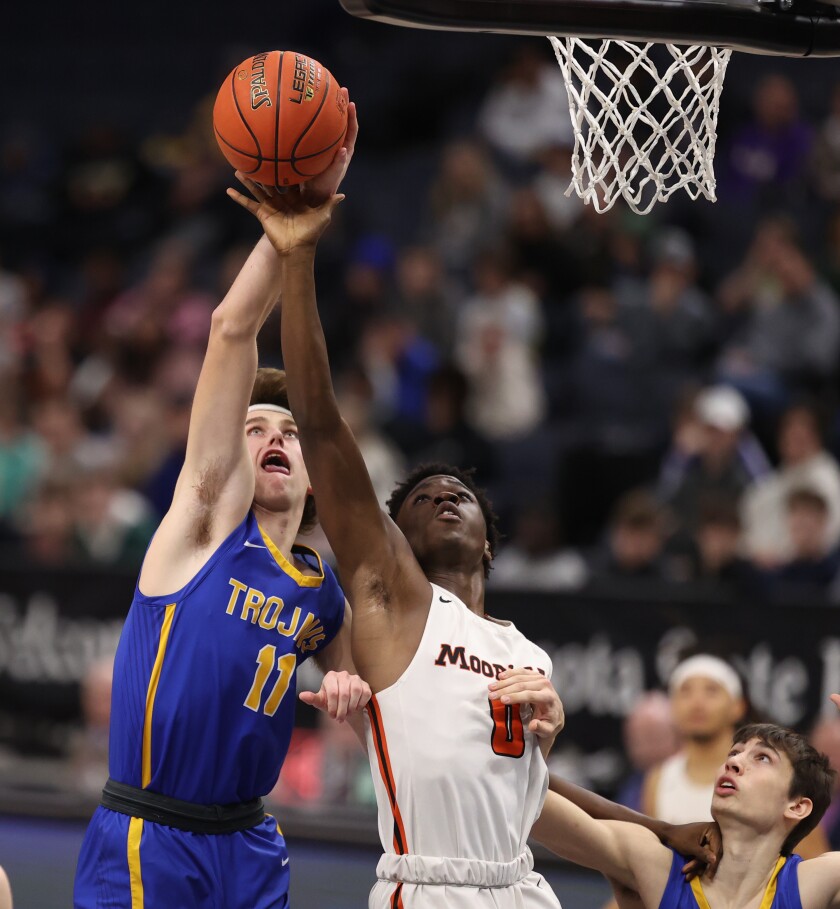 "Their defense is top notch," Ellingson said. "The way they seamlessly switch and rotate, they're all connected together on a string."
Wayzata's synergy was apparent from the opening tip. The Trojans jumped out to a double-digit lead less than seven minutes into the game. Five different players scored as the defending state champions opened the quarterfinal matchup on a 13-1 run.
"That's really hard to come back from when things aren't clicking right away," Wayzata senior Bjerke said of Moorhead. "But they have a lot to look forward to. They're a really young team and should be able to get back here again and build off that previous experience and keep going."
The Trojans forced three turnovers in the game's first three minutes and held the Spuds to 18% shooting in the opening half. Moorhead's first point came at the 4:34 mark on an Adam Jenkins free throw. Jenkins scored the team's first non-free throw basket six minutes later.
"They're a very good team," Jenkins said. "They can easily get downhill to the basket. We just had a hard time stopping them."
Jenkins led Moorhead with 13 points on 6-for-9 shooting from the floor. The 6-foot-8 junior also pulled down a team-high eight rebounds for the Spuds, who reached the state tournament this year for the first time since 2012.
Wayzata kept Moorhead on its heels as it grabbed a commanding 37-11 halftime lead. The Trojans turned 12 Moorhead turnovers into 19 points in the first half, and picked up right where they left off.
Wayzata opened the second half on a 15-9 run that pushed its lead to 34 points at 51-17. The Spuds had half as many turnovers in the second frame, but there was no catching the Trojans, whose margin continued to grow for the remainder of the game.
Half: Wayzata 37, Moorhead 11
W: Barnette 13, Hall 11, Harvey 9, Bjerke 9, D Berkland 7, Schmitt 7, Tibbits 6, Beeninga 5, Rottinghaus 2, J Berkland 2.
M: Jenkins 13, Elmore 5, Zimmerman 3, Wachenheim 2, Altenbernd 2, Davis 2, Hagen 1.