Jace Frederick: What Kayla McBride did Tuesday for Lynx was nothing short of amazing
McBride won a Turkish League title overseas over the weekend, and flew straight from Europe to Los Angeles on Monday to meet up with the Lynx in time for their contest Tuesday against the Sparks. She finished with 24 points.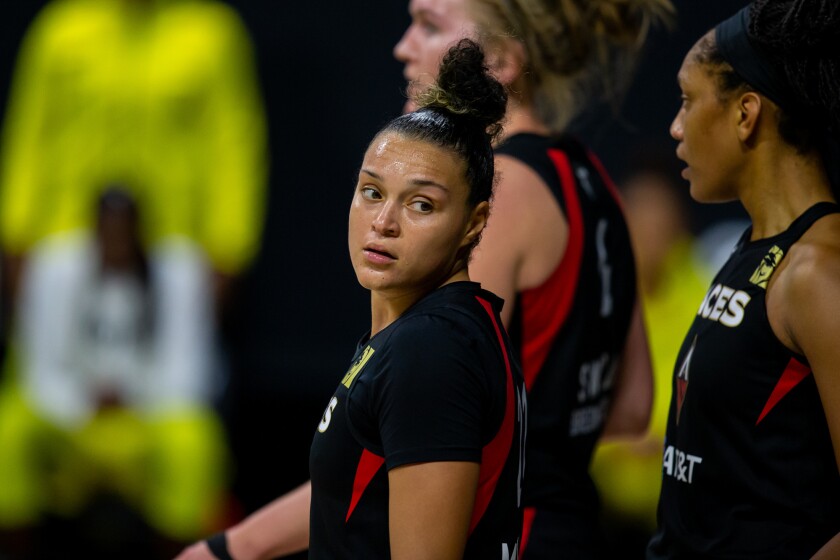 Kayla McBride sat down for her post-heroics press conference Tuesday in Los Angeles after powering the Lynx to their first victory of the season, then wondered aloud.
"What's today? Tuesday?" she asked. "It's Tuesday, right?"
How could she know at that point. McBride won a Turkish League title overseas over the weekend, and flew straight from Europe to Los Angeles on Monday to meet up with the Lynx in time for their contest Tuesday against the Sparks.
It was an extreme example of the physical toll elite women's basketball players take on their bodies, playing nearly year-round between their WNBA and overseas seasons. McBride essentially hopped from one season to the next, with an international flight in between.
"Thank god for sleeping on the plane," she joked.
Not only did McBride show up for Minnesota on Tuesday, but she delivered in a massive way. The sharpshooter — who's established herself as much more than that in this league — tallied 15 points in the first quarter. Then, in the fourth, with the score tied 84-84, McBride curled around Jessica Shepard in the high post and darted toward the bucket.
She lost her defender in the process, received the beautiful feed from Shepard and finished through contact with two seconds to play to lift Minnesota to an 87-84 victory. McBride finished with 24 points to lift Minnesota to a win it desperately needed after an 0-4 start. She played 38 of the game's 40 minutes in her return to WNBA action.
"It doesn't matter how tired I am or how jet-lagged, I want to show up and give whatever I can give. And you know it's a grind. This is a part of being a professional basketball player, playing overseas. I understand that," McBride said. "Actually, as exhausted as I am and getting hit, that's part of the game, I'm super grateful that I showed up for my team, because we needed that. Whatever it was that God had intended, whatever his plan was, it was for me to be here tonight."
She showed out in front of her family, who flew out to Los Angeles for the game, and the teammates who'd desperately missed her to start the season. It was suggested that McBride — who made a similar quick turnaround after her overseas season in 2021 to arrive just in time for the Lynx's season opener — be nicknamed "Jet-Lag K-Mac."
"#JetLagKMac — that's kind of fire, actually," McBride noted. "It just takes toughness, and I love the game. There's no way I could've been sitting on the sidelines today, as exhausted as I was. That's jsut kind of in my DNA. There was no way. I'm never going to take these moments for granted. I enjoyed every moment of it, as exhausted as I was. Thirty-eight minutes? Hey, whatever. Whatever it is, rest up and that's just kind of the name of the game the women play."
It's not a fair game. It's not even a reasonable one to expect the highest-level athletes to play. What McBride did over the past week is a big ask for anyone. Yet on her flight back to the United States, all she could think about was how grateful she was to be able to do what she does.
She wasn't surprised in the least to perform at the level McBride achieved in Los Angeles. The 29-year-old said she was simply doing what she's been doing for the past seven months in Europe. She feels "really good," and believes she's entering a part of her prime.
"I'll be 30 next month, and I just enjoy the game," she said. "I feel like I'm at a place where I put a lot of work in, and I expect a lot out of myself. … Today was just the start."
And through the bumps and fatigue, McBride said just seeing the ways in which the Lynx's chemistry strengthened and grew made the struggle "worth it" for her. The biggest bump — a "knot" on her forehead — came with fewer than 90 seconds to play in the fourth quarter, when McBride when to the bucket and was hammered by Liz Cambage. The contact sent the guard flying into Nneka Ogwumike.
Lynx coach Cheryl Reeve noted a foul should have been called. But what annoyed McBride is that she missed the shot at the rim.
"I made the layup the next time I went in there," said McBride, in reference to her game-winner, "so that was the most important part."
______________________________________________________
This story was written by one of our partner news agencies. Forum Communications Company uses content from agencies such as Reuters, Kaiser Health News, Tribune News Service and others to provide a wider range of news to our readers. Learn more about the news services FCC uses here.