Leo Pina delivers walk-off hit in extra innings to lift RedHawks to 1st American Association championship
The Fargo-Moorhead RedHawks rallied past the Milwaukee Milkmen for a dramatic extra-innings victory in the deciding Game 5 of the Miles Wolff Cup finals.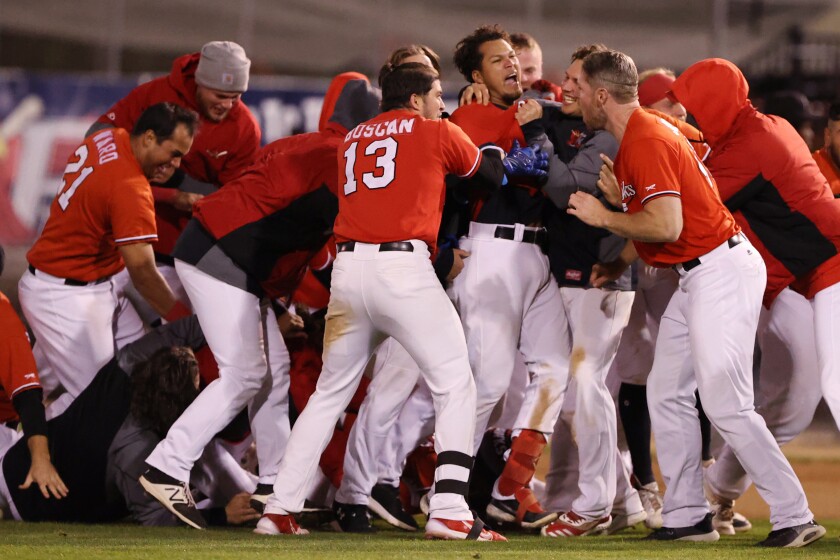 We are part of The Trust Project.
FARGO — Fargo-Moorhead RedHawks third baseman Leo Pina had championship magic in his bat Thursday night at Newman Outdoor Field.
Pina delivered an RBI single in the 10th inning for a 9-8 walk-off victory against the Milwaukee Milkmen in the deciding Game 5 of the American Association championship series before 1,236 fans.
"It was very emotional," said Pina, who was named the most valuable player in the series. "I was looking for that all, clutch hit, and I did it. That's fun."
The RedHawks won the Miles Wolff Cup finals with a furious comeback, winning their first championship since 2010. F-M won its first American Association crown and sixth overall.
"We're a good team," Pina said. "We showed that all season long and we deserve it. We played hard for this."
F-M's previous five league titles (1998, 2003, 2006, 2009, 2010) all came while members of the Northern League.
"To have someone like Leo get that big hit, get the MVP, he's as much a RedHawks as this organization has ever had," RedHawks manager Chris Coste said.
RedHawks closer Alex DuBord pitched three innings of scoreless relief to earn the victory. The Fargo South graduate struck two batters and walked three, while allowing no hits.
"I don't want to be selfish, but once again this is my hometown and I wanted this more than anything I could imagine," DuBord said. "So I told (Coste) when I came out, I got the rest of the game win or lose."
Pina finished 2-for-6 with one RBI and one run scored.
"It was like a written-in-a-storybook kind of thing," RedHawks shortstop Sam Dexter said. "Leo Pina is the greatest player I've ever played with and he just lives for those moments. We all had a good feeling that he was going to do something there."
The RedHawks were on the ropes before a five-run seventh inning injected life into the crowd at Newman. Right fielder Alec Olund started the rally with a bases-loaded walk to cut the Milwaukee lead to 8-4. Dexter then reached on an infield single that plated one run and another scored on a throwing error and the Milkmen lead was 8-6.
RedHawks center fielder Evan Alexander capped the wild rally with an infield single that scored one run and a second came around to score on a throwing error to tie it up at 8-8 through seven innings.
"We fed off the crowd's energy and we kept putting the ball in play and making them make plays," Dexter said.
That five-run F-M seventh inning would force extra innings as neither team scored in the eighth and ninth innings.
The Milkmen tried to land the knockout punch in the sixth inning. Designated hitter Keon Barnum was on second base with one out and used the element of surprise to spark the rally. Barnum broke for third base with RedHawks reliever Joe Jones on the mound. Jones — who just entered the game — stepped off and overthrew third base to allow Barnum to score and tie the game at 3-3. Moments later, Hector Sanchez belted a solo home run for a 4-3 lead.
Bryan Torres added an RBI single for a two-run lead and then Logan Trowbridge followed with an RBI double for a 6-3 lead. Miguel Gomez then delivered a two-run single for an 8-3 lead.
"That was hard to deal with, but this team is a fighter," DuBord said.
The RedHawks had forged into the lead a couple innings earlier. Dexter led off the fourth inning with a double before advancing to third base on an Alexander bunt single. Nick Novak's sacrifice fly scored Dexter to give F-M a 3-2 lead.
The RedHawks got rolling in the second inning after Dexter delivered a one-out triple. Alexander followed with a two-run home run over the wall in right field to give F-M a 2-1 lead. Alexander finished 3-for-4 with three RBIs and scored one run.
F-M left-handed starter Kevin McGovern was lifted in the third inning after allowing back-to-back singles to Torres and Trowbridge to start the frame, putting runners on first and third base. The Milkmen tied the game at 2-2 after Gomez lifted a sacrifice fly to left field that scored Torres.
Right-hander Davis Feldman came on in the third inning and retired all three batters he faced to help limit the damage. McGovern pitched two-plus innings, allowing two runs (one unearned) while striking out no batters and walking one.
The Milkmen found the scoreboard in the first inning with a Barnum RBI single to build a 1-0 lead. Torres scored from third base on Barnum's hit after leading off the game with an infield single.
"This was a special group from Day 1," said Dexter, who was 3-for-5 with three RBIs and a run scored Thursday night. "Knowing that Fargo is such an inspirational community, they love us here and we want to give back to them so it's very special."
The RedHawks were 5-0 in games in which they faced elimination this postseason.
"It's just a testament to all the guys. We never quit, we never say die and now we're champions," Dexter said.
The RedHawks advanced to the championship series last season, but the Kansas City Monarchs swept F-M to earn the Miles Wolff Cup. The RedHawks earned redemption Thursday night in their home ballpark.
"When we lost in the finals last year, there was only one thing that was acceptable for us," Coste said. "To actually be standing here with the trophy right next to us, it's hard to put into words. I'm so incredibly proud of our organization and team being resilient."