Wild launch alumni association with help of O.A.R. and guitarist Cory Wong
Think of it as a bridge between the past and the present with an eye toward the future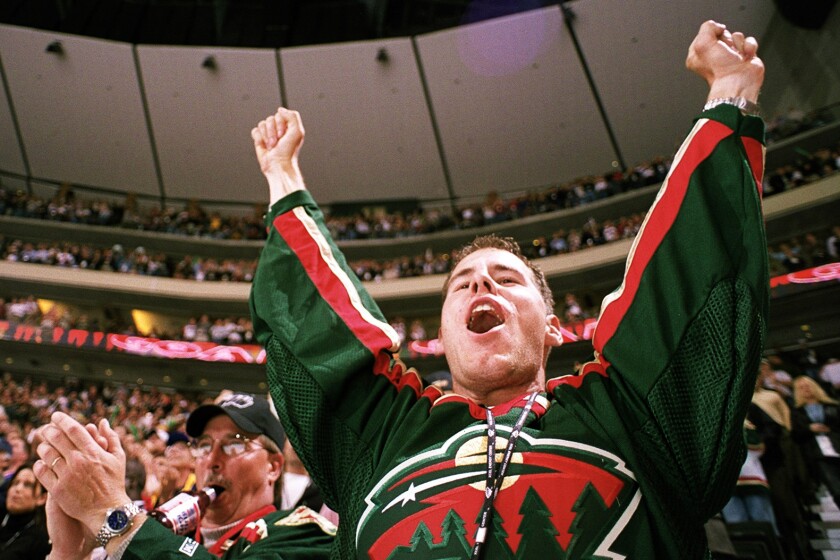 ST. PAUL — Minnesota Wild director of team operations Andrew Heydt figured it was about time the State of Hockey had a way to honor its rich tradition.
Introducing the Minnesota Wild Alumni Association. The official launch came via a news conference Monday afternoon at Xcel Energy Center.
As for the endeavor itself, it is designed to pay homage to former players, while also finding creative ways to help them stay connected to the organization.
"This is an exciting time for the Wild as we officially begin to recognize all the players, coaches and management that have been a part of our team's history," Heydt said in a release. "The alumni group is open to any person that was part of building our rich history over the past 22 seasons."
Not only does the Minnesota Wild Alumni Association hope to rekindle old friendships, maybe more importantly, it hopes to spark new friendships along the way. There will be various networking events, including select home games, during which former players can get together.
Think of it as a bridge between the past and the present with an eye toward the future.
"There are a lot of former players like me that continue to make Minnesota their home," former team captain Mikko Koivu said in a release. "I am excited to be part of the Minnesota Wild Alumni Association and look forward to connecting with alumni and working together on events and initiatives that will strengthen our connection to the community we live in."
Since the team's inception in 2000, the Wild have had a total of 297 players appear in at least one game. More than 40 former Wild players currently live in Minnesota.
"We are very thankful for the hard work and efforts of our alumni," Wild owner Craig Leipold said in a release. "We are excited about the Minnesota Wild Alumni Association and the positive impact they will provide for both our organization and our community."
The Wild also announced that they will host a "Crazy Game of Hockey" charity event this summer in collaboration with the band O.A.R. and renowned Minnesota guitarist Cory Wong. This will serve as the first event for the Minnesota Wild Alumni Association and will take place July 7-8 in the Twin Cities.
There will be a VIP event at the Pantages Theatre in Minneapolis on July 7 at 7 p.m., a celebrity hockey game at TRIA Rink in St. Paul on July 8 at 12:30 p.m., and a concert at the Armory in Minneapolis featuring O.A.R. and Cory Wong on July 8 at 7:30 p.m.
Some of the names currently scheduled to participate in the celebrity hockey game include: Wild alumni Niklas Backstrom, Pierre-Marc Bouchard, Kyle Brodziak, Matt Cullen, Devan Dubnyk, Darby Hendrickson, Mark Parrish, Clayton Stoner and Thomas Vanek; current Wild players Alex Goligoski, Ryan Hartman and Jon Merrill; USA Hockey stars Hannah Brandt, Natalie Darwitz and Hilary Knight; and members of the band O.A.R., as well as more celebrities to be announced at a later date.
"It's going to be hilarious to see musicians playing hockey with real pro players," O.A.R. lead singer Marc Roberge said. "Then it's going to be a lot of fun to come to a concert and see real pro athletes try to play music."
"A really fun and unique event that I've never seen anything like," Cory Wong added. "It's going to be an absolute blast."
You can purchase tickets to the "Crazy Game of Hockey" charity event starting at 4 p.m. Monday. Anyone purchasing a ticket will gain admission to all three events. A portion of the net proceeds will benefit the Minnesota Wild Foundation.
______________________________________________________
This story was written by one of our partner news agencies. Forum Communications Company uses content from agencies such as Reuters, Kaiser Health News, Tribune News Service and others to provide a wider range of news to our readers. Learn more about the news services FCC uses here.