Frozen Faceoff preview: No. 17 UND vs. No. 7 St. Cloud State
The Fighting Hawks are playing against the Huskies in the NCHC semifinals in Xcel Energy Center.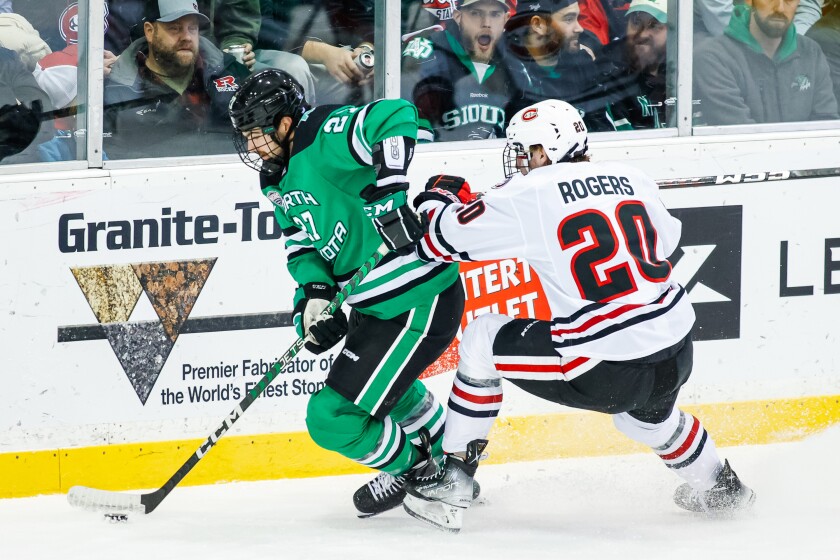 ST. PAUL, Minn. — St. Cloud State coach Brett Larson didn't tip his hand on who the Huskies will start in goal for Friday night's National Collegiate Hockey Conference semifinal game against UND in the Xcel Energy Center.
The Huskies used Dominic Basse for Games 1 and 2 against Minnesota Duluth last weekend. They went with Jaxon Castor for Game 3.
St. Cloud State has split the goaltenders all year along, including its games against the Fighting Hawks. Basse and Castor each have started twice.
But this situation is nothing new for UND.
The Fighting Hawks didn't know last weekend whether Simon Latkoczy or Jake Kucharski would be the guy in net for Omaha. Latkoczy ended up starting all three games.
"For us, we have to keep playing the way we've been playing the last few games," UND captain Mark Senden said. "I think we've been playing really good hockey, being mentally tough and playing the right way, playing North Dakota hockey and being hard. Those things have led to success for us these last few weekends and we just have to keep it going."
UND (18-14-6) needs to win the NCHC Frozen Faceoff to get a bid to the NCAA tournament.
There are no routes to an at-large bid if the Fighting Hawks lose a game this weekend.
"We're playing our best hockey," UND coach Brad Berry said. "So, we're going to throw it on the table again and keep going."
UND players don't have a lot of experience playing in the Xcel Energy Center — even the fifth-year seniors.
In 2018-19, their freshman season, UND didn't make it to the Frozen Faceoff. It's the only time in the 10-year history of the league the Fighting Hawks weren't there.
In 2019-20, UND was set to be the No. 1 seed, but the event was canceled due to the coronavirus pandemic.
In 2020-21, the Frozen Faceoff was moved to Grand Forks. UND won it, becoming the first NCHC team to win both the league's regular season and playoff titles in the same season.
Last season, UND finally got a chance to play at the Xcel Energy Center, but lost 4-2 to Western Michigan in the semifinal. Jake Sanderson missed that game due to injury and Tyler Kleven was suspended for his third game misconduct.
"We've been playing great hockey, so we've just got to keep playing consistently," Senden said. "We have to keep doing the things that are giving us success."
| | | |
| --- | --- | --- |
| UND | Stat | SCSU |
| 3.29 (12th) | Off | 3.30 (11th) |
| 2.82 (30th) | Def | 2.41 (13th) |
| 27.3 (3rd) | PP | 25.5 (6th) |
| 83.7 (13th) | PK | 75.7 (56th) |
| 51.9 (20th) | FO | 53.9 (6th) |
| .886 (57th) | SP | .909 (19th) |
National rank in parenthesis. Categories are offense (goals per game), defense (goals against per game), power play percentage, penalty kill percentage, faceoff percentage and team save percentage.
The focus: F Veeti Miettinen
Miettinen, a junior forward from Finland, can be a streaky player. Right now, he's on a hot streak. Miettinen has tallied nine points in the last eight games for the Huskies. He's doing damage at both even strength and on the power play. Miettinen has five points in four games against UND this season. While the Huskies have numerous threats up front, Miettinen is among the most dangerous when he's on.
UND pick to click: F Judd Caulfield
UND senior forward Judd Caulfield is another player who seems to go in runs. The Grand Forks native has been playing much better the last month than his point total would indicate. He was finally rewarded with a pair of assists in Game 3 against Omaha and those could springboard him into one of those hot streaks. Caulfield scored in the Frozen Faceoff at the Xcel Energy Center last season for UND.
The call: Down to the wire
UND and St. Cloud State played two games exactly a month ago. Both went to overtime. UND won one. The other went to a shootout. In all, UND has played nine-straight games that were within a goal in the final four minutes of the third period. Everything is coming down to the wire at this time of year. Why would this one be any different?
NCHC semifinal: UND 4, SCSU 3
How UND became a good defensive team
Jackson Blake wins NCHC rookie of the year; Ethan Frisch is NCHC's student-athlete of the year
State champs return to St. Paul; Drew DeRidder enjoying best run of career; UND pregame parties
UND's history on St. Patrick's Day; will the Fighting Hawks wear black or green?
Chris Jandric has turned into a top offensive defenseman
UND Hockey Podcast: Recapping the Omaha series win + previewing SCSU matchup