In-depth statistics from UND's sweep of Miami
Jackson Blake hit the 30-point mark Saturday night. The only other UND freshmen to do that in the last decade are Tyson Jost and Brock Boeser.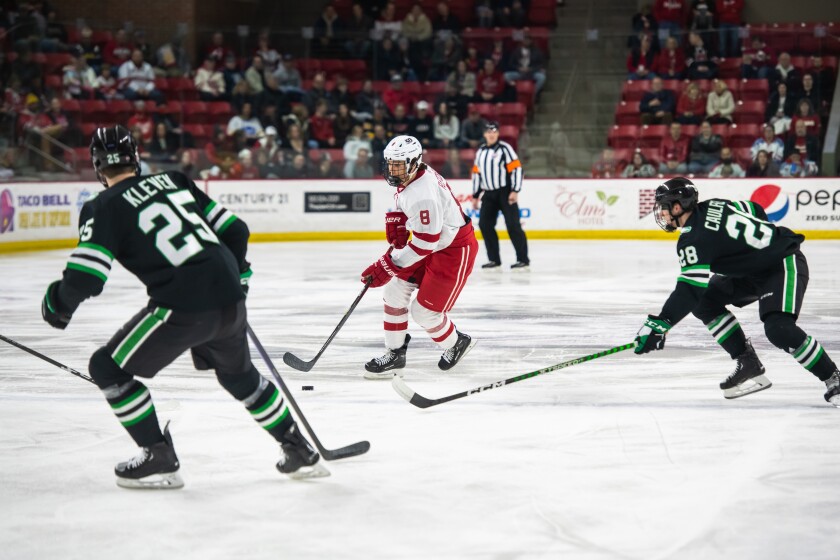 OXFORD, Ohio — Riese Gaber raised his hands and looked to the sky in relief after he rifled his third goal into the corner of the net Saturday night.
Finally.
Gaber finished off his first collegiate hat trick — and UND's first in more than four full years — in the final minute of UND's 8-0 rout of Miami University in Goggin Ice Center.
The last UND player to tally a hat trick was Rhett Gardner on Nov. 2, 2018, against Wisconsin in Ralph Engelstad Arena.
"We got one," UND coach Brad Berry said after the game. "We got one. It doesn't come by that often as far as opportunities. Riese Gaber has been grinding away here for three years now. It's a situation where he got an opportunity and he made the most of it."
The Fighting Hawks (12-11-4) had one of the longest droughts in college hockey without a hat trick, which was odd considering they've been one of the highest-scoring teams in the country.
UND finished No. 4 nationally in scoring in 2019-20. It was No. 1 in 2020-21.
Since Gardner's hat trick in 2018, there were 53 instances where a UND player had two goals in a game and a shot at a hat trick, led by a pair of Hobey Baker Award top-three finalists in Jordan Kawaguchi (seven times) and Shane Pinto (six).
Gaber, a junior winger, had five previous two-goal games, while Collin Adams and Ashton Calder each had four.
Jasper Weatherby, Jake Schmaltz, Judd Caulfield, Louis Jamernik V, Mark Senden, Gavin Hain, Cole Smith, Dixon Bowen, Grant Mismash and Tyler Kleven each had a pair of two-goal games.
Jackson Blake, Jake Sanderson, Jacob Bernard-Docker, Gardner, Nick Jones, Gabe Bast and Jonny Tychonick all had one.
The only teams with hat trick droughts longer than UND were Alaska Anchorage (Brett Cameron, Dec. 6, 2014), Union (Spencer Foo, Feb. 11, 2017), Ferris State (Mitch Maloney, Nov. 24, 2017), Vermont (Liam Coughlin, Jan. 20, 2018), Maine (Brendan Robbins, Feb. 2, 2018) and Yale (both Joe Snively and Evan Smith, Feb. 10, 2018).
Alaska Anchorage had a two-year program hiatus in that span, while Union and Yale both sat out the 2020-21 season.
Gaber's hat trick was UND's first on the road since Shane Gersich on Nov. 18, 2016 at St. Cloud State. In fact, UND's last two road hat tricks came at St. Cloud State. Drake Caggiula had one there on Nov. 20, 2015 — UND's first game as the Fighting Hawks.
Perhaps it's no surprise UND broke the streak against Miami.
The RedHawks have now allowed an astonishing seven opponent hat tricks this season alone. Western Michigan's Jason Polin, the NCAA's leading goal-scorer, did it against the RedHawks on back-to-back nights, while three Denver players have done it — Carter Mazur, Carter King and Tristan Broz.
Saturday ended a bleak month for Miami.
The RedHawks went 0-6 in January and were outscored 32-2.
According to the Miami hockey blog, Saturday's game marked the most lopsided home loss for Miami in 27 years.
Jackson Blake had a three-point game Saturday to reach the 30-point mark for the season.
That is a very difficult plateau for freshmen to hit.
In the last decade, only two UND freshmen have tallied 30 points — Brock Boeser (60) and Tyson Jost (35).
Other UND rookies to hit 30 in college hockey's online stats era (since 1999) are Danny Kristo (36), Ryan Duncan (36), T.J. Oshie (45), Jonathan Toews (39), Travis Zajac (39), Rastislav Spirko (37), Drew Stafford (32), Brady Murray (46), Zach Parise (61), Brandon Bochenski (32) and Ryan Bayda (40).
Blake is approaching his father Jason's freshman year total, too. Jason tallied 32 as a rookie at Ferris State. Jason transferred to UND for his final three years.
Blake also is beginning to make a case for National Collegiate Hockey Conference rookie of the year.
Voters generally only take conference stats into consideration. In league play, Blake and Western Michigan's Ryan McAllister are tied among rookies with 19 points. Minnesota Duluth's Ben Steeves has 16.
UND's team save percentage has been at the bottom of college hockey for much of this season, but after a strong run, Drew DeRidder's numbers are quickly turning.
The NCHC goalie of the week stopped 50 of 51 shots in the two-game series at Miami and earned his third shutout of the season Saturday.
Since Dec. 8, when UND traveled to Western Michigan for a two-game set, DeRidder is 4-1-1 with a .938 save percentage and a 1.63 goals-against average.
In league play, DeRidder is 5-3-2 with a .907 save percentage and a 2.22 goals-against average.
DeRidder's save percentage is now at .900 for the season. He was over the .900 mark in all four of his seasons at Michigan State before he transferred to UND in the offseason.
Success with 17 (or fewer)
Teams are allowed to dress 19 skaters and two goaltenders (three goalies if at home) for NCHC games.
The general lineup is 12 forwards (four full lines), six defensemen (three pairings) and an extra skater — a defenseman or forward based on the coach's discretion.
On Saturday, UND only dressed 17 due to three injuries sustained in the series opener — Jake Schmaltz (upper body), Gavin Hain (upper body) and Luke Bast (lower body) — and a suspension to Tyler Kleven.
But playing short hasn't been a problem for UND in the last decade-plus.
UND is now 13-2 in the last 15 games it has played with fewer than 18 skaters.
It is 12-1 in its last 13 with 17 skaters.
That stretch goes back to the 2011-12 season, when UND played the final month of the season unable to fill out a full lineup due to a wave of injuries. That squad reeled off eight consecutive wins, grabbing the Western Collegiate Hockey Association Final Five title and reaching the NCAA regional final.
UND played short to open the 2012-13 season in Fairbanks, Alaska, due to player suspensions. It beat Alaska Anchorage 5-0 with 15 skaters and lost to Alaska Fairbanks 2-1 with 16 skaters.
The Fighting Hawks also played two games with 17 skaters during the NCHC Pod and one last season due to injuries.
On Saturday, the Fighting Hawks played with five defensemen, meaning their minutes were higher than usual.
Ethan Frisch (26:14) and Ryan Sidorski (22:16) both played their seasons highs in minutes. Chris Jandric played 23:51, Cooper Moore 23:10 and Ty Farmer 19:11.
"At this time of year, you need guys to step up," Farmer said. "I think we did a phenomenal job of that."
UND's recent games with 17 or fewer skaters
2022-23 season
Jan. 28, 2023 — UND 8, Miami 0
2021-22 season
Feb. 12, 2022 — UND 4, Colorado College 0
2020-21 season
Dec. 16, 2020 — UND 4, St. Cloud State 3, OT (NCHC Pod)
Dec. 13, 2020 — UND 6, Western Michigan 3 (NCHC Pod)
2012-13 season
Oct. 20, 2012 — Alaska 2, UND 1 (16 skaters)
Oct. 19, 2012 — UND 5, Alaska Anchorage 0 (15 skaters)
2011-12 season
March 25, 2012 — Minnesota 5, UND 2 (NCAA regional final)
March 24, 2012 — UND 3, Western Michigan 1 (NCAA regional semifinal)
March 17, 2012 — UND 4, Denver 0 (WCHA championship)
March 16, 2012 — UND 6, Minnesota 3 (WCHA semifinals)
March 15, 2012 — UND 4, St. Cloud State 1 (WCHA quarterfinals)
March 10, 2012 — UND 4, Bemidji State 3 (WCHA first round)
March 9, 2012 — UND 4, Bemidji State 1 (WCHA first round)
March 3, 2012 — UND 3, MSU-Mankato 0
March 2, 2012 — UND 4, MSU-Mankato 2
Feb. 25, 2012 — Denver 5, UND 3