West Fargo comes from behind to upset No. 3 Fargo South
WEST FARGO — Welcome to Friday night football in North Dakota, when Fargo South and West Fargo clashed after a 2 1/2 -hour lightning delay and tornado warning.
But that didn't seem to phase West Fargo, which came from behind to defeat South in a lengthy and humid Eastern Dakota Contest Friday night. The Packers unleashed their own fourth-quarter tornado and ended the Bruins three-game winning streak with a 20-7 win that came down to the wire.
South and West Fargo were on the field for 17 minutes before a lightning delay forced both teams to leave the field with 1 minute and 40 seconds left to play in the first quarter. The game was even moved up an hour due to the weather for a 6 p.m. start.
South, the No. 3 ranked team in the latest Class 3A football poll, had eight total yards before the delay at 6:17 p.m. West Fargo recorded 35.
Tornado sirens were roaring through West Fargo during the delay. A tornado warning was issued in the area but cleared around 8:15 p.m. The game resumed at 9:01 p.m. on South's 2nd and 10.
And just like that, Fargo South junior quarterback Sibomana Enock scored a 73-yard rushing touchdown at the 34 second mark in the first quarter. Senior kicker Tate Simpson's kick was good to give the Bruins a 7-0 lead that would stick heading into the second half.
South tallied 107 yards of total offense in the first half, Packers recorded 104.
West Fargo senior quarterback Dustin Mertz connected on four of eight passes for 39 yards. Mertz also led the Packers run game in the first two quarters with five carries for 25 yards.
South junior quarterback Peyton Kessel was three for three for 18 yards. Enock led the Bruins in rushing with four carries for 81 yards in the first half. He also notched a 28-yard punt return.
The Packers and Bruins had three turnovers on three straight posessions in the third quarter. At the 6 minute 27 seconds mark, Mertz was stripped by the Bruins. West Fargo junior tight end Carter Birrenkott answered the turnover with a 17-yard return, tallying his third interception of the season. The ball was shortly given back to the Bruins, who recovered a fumble from senior running back Joel McIntosh.
West Fargo entered the fourth quarter trailing by 7.
The Packers tied it up with just under six minutes remaining thanks to an 11-yard touchdown run by senior cornerback Junior Gbaley. Junior kicker Landon Pritchard's kick was good to make it 7-7.
West Fargo senior defensive back John McClendon scored on a 15-yard interception to give the Packers a 13-7 lead with 5 minutes 44 seconds left in back-to-back touchdowns for the Packers.
To cap the Packer avalanche, Gbaley added his second fourth-quarter touchdown at the three-minute mark to give the Packers a 20-7 lead. That score would stick.
West Fargo's win over Fargo South rose the Packers to 2-2 overall this season and 2-0 in the EDC. The Bruins dropped to 3-1 and 1-1 in the EDC.
The Packers, who recorded just two wins last fall, have matched their 2018 victories with five games still to play this regular season.
The Packers fell to the Bruins 14-6 the last time the teams met in October 2018. South had lost three consecutive times to West Fargo prior to last season's contest. Friday's win upholds West Fargo's advantage in the series between the two teams, with the Packers having won four of the last five games played against South.
Heading into Friday night's EDC matchup, South came off of a tight 26-23 victory over Fargo Shanley (2-1, 0-1 EDC) on Friday, Sept. 13. South has also posted a 29-0 win over Dickinson and a 39-21 victory over Bismarck Legacy this season.
West Fargo earned its first win of the season that night in a 34-0 victory over Fargo North (0-3, 0-1 EDC). Mertz threw for 160 yards in the Packers shut out.
South plays Fargo Davies (2-1, 1-0 EDC) at home at 7 p.m. Friday, Sept. 27. Davies sits at No. 4 in the Class 3A poll.
West Fargo next faces its crosstown rival West Fargo Sheyenne (3-0, 1-0 EDC) on the road at 7 p.m. Friday, Sept. 27, at Essentia Health Mustangs Stadium. The Mustangs are ranked No. 2 in the latest poll.
FS-- Enock 73 run (Simpson kick)
WF-- Gbaley 11 run (Pritchard kick)
WF-- McClendon 15 interception (Pritchard kick failed)
WF-- Gbaley 13 run (Pritchard kick)
1
/
9:
West Fargo's John McClendon celebrates his 15-yard interception return for a go-ahead touchdown against Fargo South at Essentia Health Packer Stadium on Friday, Sept. 20. David Samson / The Forum
2
/
9:
Fargo South's Danny Lahai attempts to fend off West Fargo's Marcus Gulley at Essentia Health Packers Stadium on Friday, Sept. 20. David Samson / The Forum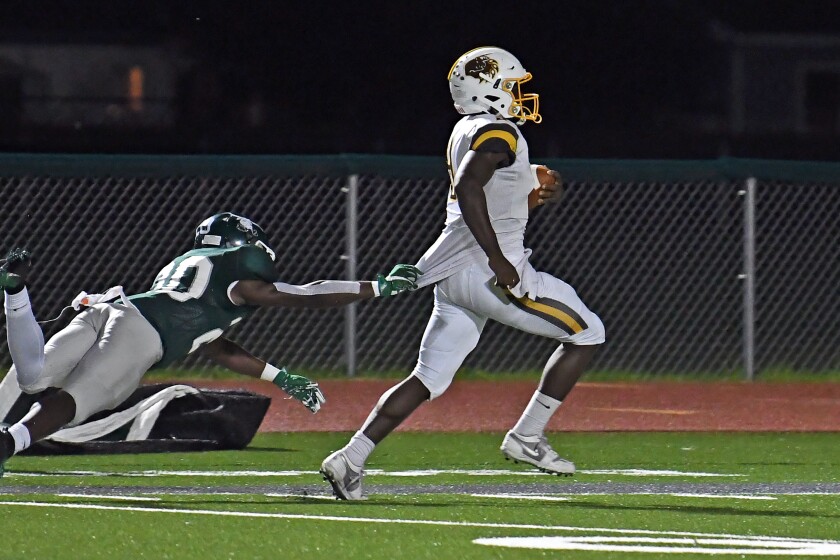 3
/
9:
Fargo South's Sibomana Enock breaks away from West Fargo's Junior Gbaley on a 73-yard touchdown run at Essentia Health Packer Stadium on Friday, Sept. 20. David Samson / The Forum
4
/
9:
West Fargo's Carter Birrenkott returns an interception against Fargo South at Essentia Health Packer Stadium on Friday, Sept. 20. David Samson / The Forum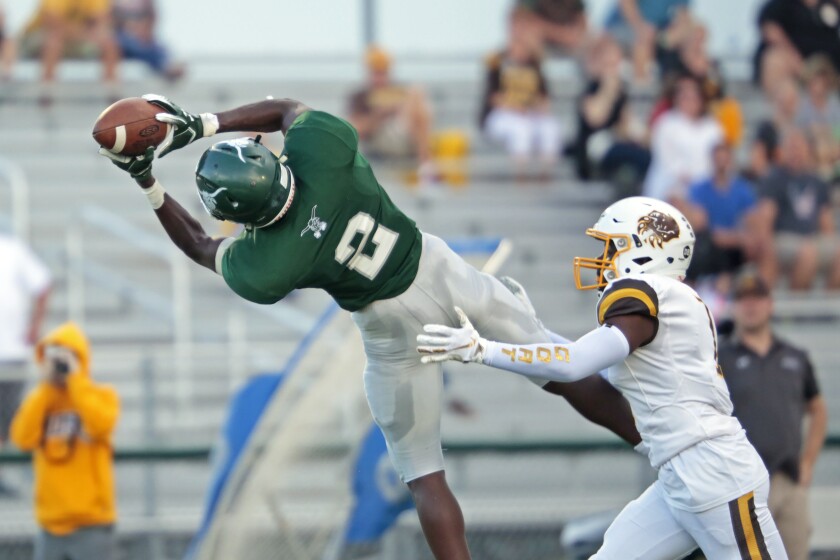 5
/
9:
West Fargo receiver Marcus Gulley leaps to snare a 30-yard reception against Fargo South's John Farr at Essentia Health Packer Stadium on Friday, Sept. 20. Fargo South stopped the Packers drive on downs before severe weather halted play in the first quarter. David Samson / The Forum
6
/
9:
West Fargo's Carson Hegerle leaps to snare a pass reception against Fargo South's Carlos Leyes and Robert Leslie at Essentia Health Packer Stadium on Friday, Sept. 20. David Samson / The Forum
7
/
9:
West Fargo quarterback Dustin Mertz runs past Fargo South's Dane Sturlaugson on a keeper at Essentia Health Packer Stadium on Friday, Sept. 20, 2019. David Samson / The Forum
8
/
9:
The Essentia Health Packer Stadium sits empty during a weather delay for the high school football game between West Fargo and Fargo South on on Friday, Sept. 20. David Samson / The Forum
9
/
9:
Fargo South team members leave the Essentia Health Packer Stadium due to a weather delay on Friday, Sept. 20. David Samson / The Forum