Fargo Public Works breaks out the steam machine to help fight flooding streets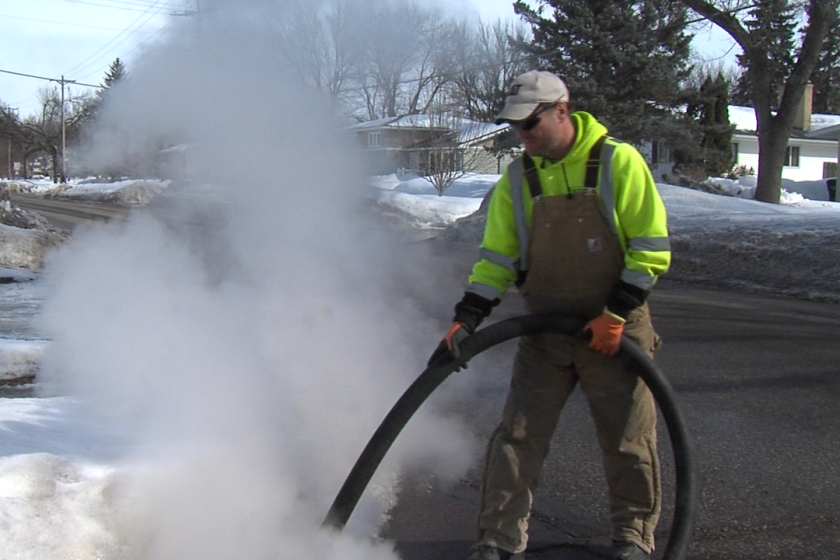 FARGO — City crews are hitting the streets to fight a number of problems caused by this winter. WDAY News tagged along with one that's pumping out piping hot steam. Its job is to make sure our streets stay water free.
Potholes, snowbanks and narrow streets. Fargo city workers are battling a number of street problems this spring.
"There's periods of time when we're not feeling very successful, I can tell you that. There's some pretty tough conditions out there in the streets," said Public Works supervisor Lee Anderson.
There's only one battle that requires a tanker of 200 degree steam to do the job. City of Fargo crews use this steamer to maintain storm drains.
"We're in equipment mostly the whole winter. So, to get out this time of year and steam and find storm drains, you know, it's good exercise. Run the hose. Guys like it. They enjoy the weather," said Matt Fredrickson, City of Fargo equipment operator.
When workers see a big puddle of water, they know there might be a frozen storm drain underneath. That's when they break out the big steam machine to thaw out the drain. They also use the steam to cut paths in ice and snow so the water can flow into storm drains easily.
The last few years the steam machine hasn't been used too much, but these workers haven't lost their touch.
"It's like riding a bike, kind of comes back to you. You've kind of got the steps, process on how to fire these boilers. So, yeah, it's like old school. Same thing, different year," Fredrickson said.
If you see a big puddle of water on a street, you can call public works at 701-241-1453. The City Fargo is asking for patience this spring, with many projects on their plate.