West Fargo School Board approves district-wide AD position
The board moved to approve a staffing request for 2022-23 that includes a change in pay grade for administrative-level activities directors/coordinators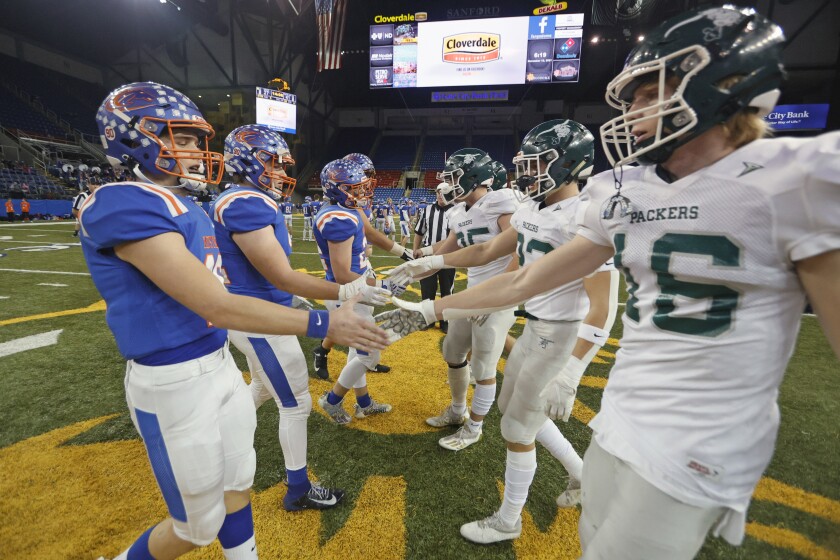 We are part of The Trust Project.
WEST FARGO — The West Fargo School Board is exploring a change to its model for high school activities directors.
In a special meeting at the Leidal Education Center on Monday night, the board addressed a memo that included the potential to eliminate its three activities director positions at West Fargo, Sheyenne and Horace high schools and move to one district-wide activities director with three activities managers, one for each school.
After a discussion that lasted more than an hour, the board motioned to adjust Grade 18 activity managers that were included in the memo to tentatively be Grade 20 activities coordinators pending continued study over the 2022-23 school year. No adjustments were made to the Grade 24 district activities director position, which was approved as part of a staffing request for 2022-23.
The memo stated that many of the administrative responsibilities of building-level ADs are becoming unsustainable as the second-largest school district in North Dakota continues to grow.
"We have heard concerns voiced by members of our team that many centralized administrative responsibilities (ranging from contract management to interfacing with the NDHSAA) handled at the individual building level have become unsustainable," the memo reads. "Additionally, with continued district growth, we need to ensure there is equity in the extra-curricular activities made available to learners. Actively managing coach/athlete ratios, social media oversight, systemic budget planning, uniform replacement schedules, and travel parity are just a few of the issues that currently lack a consistent approach across all our feeder systems. More support for middle level activities could be provided with this position, as well as managing Title IX requirements.
"By eliminating our current three building level positions and adding one activities director with an activities manager at each site, we feel we can address the issues we are currently experiencing while also leveraging the strengths of our present system."
Following Monday's vote, however, building-level ADs will remain in place with the move to Grade 20 and pending further study on the matter.
Board member Jim Jonas was the lone "nay" in the vote to approve the grade level changes.
"We are the second-biggest district in the state and of the top five, we do not have an activities director or a coordinator," Jonas said. "I know they had a discussion at the North Dakota High School Activities Association on West Fargo moving to that. I'm all in favor of a district AD and then district building athletic directors or coordinators, but we need to reward them. Because I know firsthand — athletics is my life — and I know firsthand the hours they put in. I just can't see that with Grade 18 and cutting their pay. I know it's 70 hours, I know they bust their butts and when our teams are playing at state tournaments, they're driving out there — and the hours they put in before and after school. So we need to compensate somehow."
Under Grade 24, the district-level activities director would make a projected $148,200 annually, the memo states. Had the board approved the Grade 18 activities manager model, those activities managers would have made an average of $104,420.
Fargo Public Schools has one activities director at the district level while assigning the activities portfolio to an assistant principal at each high school. Earlier this year, Grand Forks Public Schools voted to replace its district-wide athletic director and two building-level activities directors with a district-wide activities director and two building-level athletic directors.
WPFS wants to have a different model than surrounding districts like Fargo. Under the activities manager model, the managers would have reported to the district-wide activities director, according to the memo.
Cory Hermann is the activities director at Sheyenne High School and has held the position for one year. Logan Midthun holds the role of AD at Horace High School which opened last fall while Jay DeCann has been the AD at West Fargo High School for the last seven years but will exit on July 1 to become the athletic director at Mayville State University.
Hermann spoke at Monday's meeting and cited his school's success within athletics and arts and why having an AD at the building level is crucial to that success.
"Surprisingly with all of the success (in Sheyenne High School activities), the district is proposing downgrading the building AD roles to manager positions and reducing the salaries of the lowest-paid Class A school in the state," Hermann stated. "The proposed downgrade of the building AD position will turn the AD job into a high-stress stepping stone job that will have heavy turnover. It will not be a job a teacher or a coach or an outsider will look at as a destination position.
"The workload and time commitment to this position is incredible. Many times, over 70 hours a week and a ton of weekend commitments. Sheyenne has more than 20 teams competing at the state level each year which adds a week or more to each season. A week of preparation, transportation, hotels, supervision and problem solving. This weekend alone, we have four teams playing in four separate tournaments all at the same time. I was fortunate enough to make it to three out of the four.
"Looking forward to the future, is the district going to take that workload off the building ADs plate and do the same for West Fargo and Horace and make all of the coaches feel like they're supported?"
The memo state that contracts for the 2022-23 school year already issued to staff members will be honored and that currently-contracted staff members will take place at the beginning of fiscal year 2024.